Endurance
To carry out all the duties and work of a Scout, a fellow has to be strong, healthy, and active. He can make himself so if he takes a little care about it.
It means a lot of exercise, like playing games, running, walking, cycling, and so on.
A Scout should sleep much in the open. A boy who is accustomed to sleep with his window shut may catch cold when he first tries sleeping out. The thing is always to sleep with your windows open, summer and winter, and you will not catch cold. Personally I cannot sleep with my window shut or with blinds down, and when I stay in the country I like to sleep outside the house.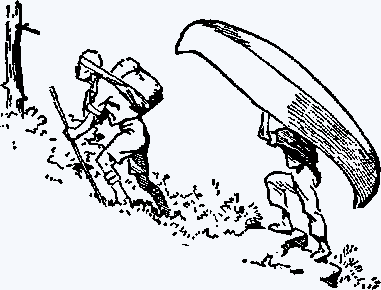 Scouts learn endurance in the open. Like explorers, they carry their own burdens and "paddle their own canoes".
A short go of exercises every morning and evening is a grand thing for keeping you fit-not so much for making showy muscle as to work all your internal organs, and to work up the circulation of the blood in every part of you.
Every real Scout takes a bath whenever it is possible. If he cannot get a bath, he takes a good rub down daily with a wet rough towel.
Scouts breathe through the nose, not through the mouth. In this way they don't get thirsty. They don't get out of breath so quickly. They don't breathe all sorts of disease germs that are in the air, and they don't snore at night.
Deep breathing exercises are of great value for developing the lungs, and for putting fresh air (oxygen) into the blood, provided that they are carried out in the open air, and are not overdone. For deep breathing the breath must be taken in slowly and deeply through the nose, not through the mouth, till it opens out the ribs to the greatest extent. Then, after a time, it should be slowly and steadily breathed out again without strain. But the best deep breathing after all is that which comes naturally from plenty of running exercise.
Author
Lord Baden-Powell of Gilwell (Chief Scout, London, UK)
Date of Creation
1908
Learn A Continuation:
to the next page: Love of Country
Back in The Past:
to the previous page: Saving Life