Scouting for Boys
This is the most famous book in the Scout Movement - written and illustrated by the Founder himself in 1908 and appearing in those days in six fortnightly parts. Subsequently B.-P. made many alterations and additions, particularly in relation to Badge Tests and Rules. Furthermore he asked many people to help him with amendments dealing with technical matters.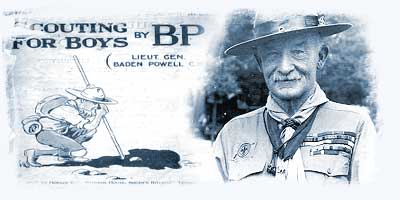 For some time it has been clear that revisions, adjustments and alterations of all kinds ought to cease and a "once-for-all" Edition of Scouting for Boys be published.
Here is the result - an Edition which retains most of the Founder's original work whilst omitting those parts of the various revisions which have become dated and have ceased to be applicable. In addition it contains for the first time a great many of the Founder's own sketches which have hitherto never been included.
Content
Scoutcraft
Campaigning
Camp Life
Tracking
Woodcraft
Endurance For Scouts
Chivalry
Saving Life
Our Duties As Citizens
Author
Lord Baden-Powell of Gilwell (Chief Scout, London, UK)