Exploration
A good form of Scout work can be done by Scouts going about either as Patrols on an exploring expedition, or in pairs like knight-errants of old on a pilgrimage through the country to find people who need help, and then to help them. This can be done equally well on bicycles as on foot.
Scouts carrying out such a journey should never, if possible, sleep under a roof. On fine nights they should sleep in the open wherever they may be. In bad weather, they would get permission to occupy a hay loft or barn.
You should on all occasions take a map with you, and find your way by it without having to ask the way of passers-by.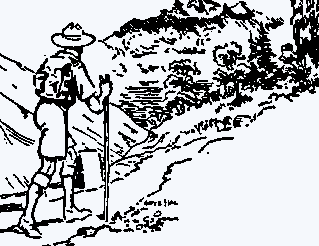 Map Sketching
Also make a sketch-map. This does not need to be elaborate, as long as someone else can find his way by it. Be certain to include the north line and a rough scale.
Explorers, of course, keep a log or journal, giving a short account of each day's journey, with simple drawings or photographs of interesting things they see.
The Object of Your Expedition
As a rule you should have some object in your expedition: that is to say, if you are a Patrol of town boys, you would go off with the idea of scouting some special spot, say a mountain, or a famous lake, or possibly some old castle or battlefield, or a seaside beach. Or you may be on your way to join one of the larger camps.
If, on the other hand, you are a Patrol from the country, you can make your way up to a big town, with the idea of seeing its buildings, its zoological gardens, museums, etc.
You would, of course, have to do your daily good turn whenever opportunity presented itself, but besides that, you should do good turns to farmers and others who may allow you the use of their barns and land, as a return for their kindness.
Author
Lord Baden-Powell of Gilwell (Chief Scout, London, UK)
Date of Creation
1908
Learn A Continuation:
to the next page: Mountaineering
Back in The Past:
to the previous page: Training for the Backwoods