Scout Staff
The Scout staff is a useful addition to the kit of the Scout. Personally, I have found it an invaluable assistant when traversing mountains or boulder-strewn country and especially in night work in forest or bush. Also, by carving upon it various signs representing his achievements, the staff gradually becomes a record as well as a treasured companion to the Scout.
The Scout staff is a strong stick about as high as your nose, marked in feet and inches for measuring.
The staff is useful for all sorts of things, such as making a stretcher, keeping back a crowd, jumping over a ditch, testing the depth of a river, keeping in touch with the rest of your Patrol in the dark. You can help another Scout over a high wall if you hold your staff horizontally between your hands and make a step for him; he can then give you a hand from above.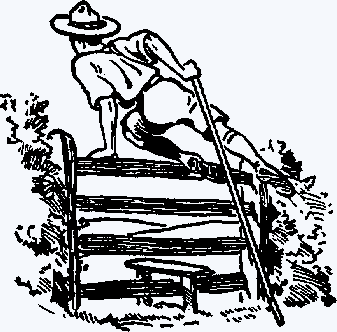 The Scout staff is useful for a great number of out-door activities.
Several staves can be used for building a light bridge, a hut or a flag staff.
There are many other uses for the staff. In fact, you will soon find that if you don't have your staff with you, you will always be wanting it.
If you get the chance, cut your own staff. But remember to get permission first.
Author
Lord Baden-Powell of Gilwell (Chief Scout, London, UK)
Date of Creation
1908
Learn A Continuation:
to the next page: The Patrol System
Back in The Past:
to the previous page: Scout Uniform